DOTmed | June 25, 2019 | By Matthew Sappern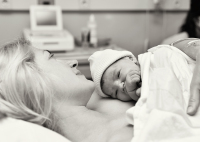 Patient safety in labor and delivery (L&D) has always been particularly challenging from a clinical standpoint. The mother/baby dyad alone means that clinicians must monitor the minute-by-minute health of not just one patient but two, and the dynamic environment and interaction between the health of the mother and baby add a level of complication rarely seen in any other department. It's no wonder that obstetrics (OB) consistently carries one of the highest (if not the highest) risk profiles in any hospital or health system, with malpractice settlements that can reach into and beyond the $15 million to $20 million range. Yet there's another, less obvious reason hospitals and health systems should be focused on patient safety in L&D. 
A recent online consumer survey conducted by PollFish found that exceptional safety for mother and baby is the single most important factor when choosing a hospital to give birth in. Eighty-six percent of respondents (200 women ages 18 to 44 years) said they would choose a hospital based on safety over five other important factors, including government patient satisfaction surveys (HCAHPS), location, online reviews from other patients, high-end birthing suites, or comfortable accommodations for family members. In fact, exceptional safety for the mother and baby received 109 votes as the most important concern. In contrast, the next-highest factor, how the hospital ranks in government patient satisfaction surveys, drew only 29 votes as the No. 1 concern. In addition, 90 percent of respondents said that knowing a hospital was investing in technology to help nurses identify issues during childbirth before they result in bad outcomes would be "very important" (54 percent), "important" (18 percent), or "fairly important" (18 percent) in influencing their decision to have a baby there. 

These findings demonstrate that a focus on safety in L&D, including investments in health IT, can give healthcare organizations a distinct competitive advantage in their market, with repercussions that continue long after the birth itself — especially since mothers are typically the decision-makers for healthcare in their homes. 

General awareness of birth-related issues 
The online survey conducted by PollFish on behalf of PeriGen, focused on knowledge and opinions of issues around childbirth in the United States today. 

When it came to awareness of the fact that among developed nations the United States has one of the highest rates of mothers experiencing bad outcomes (death or serious complications) related to pregnancy and childbirth, the majority (54 percent) said they were not aware of that disturbing fact. Slightly more than half (52 percent) said they knew that about sixty percent of bad outcomes are preventable, and 48 percent said that they or someone they know has experienced a negative outcome. Eighty-five percent said they find it concerning that the United States is facing a public health crisis when it comes to mortality and morbidity rates in moms related to pregnancy. 
A recent spate of mainstream media news coverage, especially about the rising maternal morbidity and morbidity rates in the United States, is raising consumer awareness about the risks. Clinicians and hospitals alike need to work on reversing these trends while understanding the effect it has on the decision-making process of where to have a baby. 

Leveraging AI for improved safety 
There are hospitals and health systems across the country that are listening to those 90 percent of respondents who said a hospital's investment in technology to prevent bad outcomes during L&D is important to them in choosing where they would give birth. The hospital executives investing in this technology realize that investing in safer deliveries isn't just good medicine, it's good business. 

Newer types of L&D health IT leverage technology, such as artificial intelligence (AI), to monitor the avalanche of data generated during childbirth to identify trends that may require interventions to prevent bad outcomes. Tools such as AI can save clinicians from having to scan through data from fetal strips manually, enabling them to focus their knowledge, skills and experience where they're truly needed. In addition, when nurses see troubling patterns during L&D that are red-flagged by the software, they can bring them to the obstetrician's attention. 

The takeaway for hospitals and health systems 
Clearly, the survey results show that providing a safe environment for mothers in labor is a top priority among women of childbearing years. Women understand the role that technology plays in promoting safety, including technology designed to deliver early warnings about developing illness before it reaches a crisis stage. 


Hospitals and health systems that can demonstrate they are on top of the issue and are implementing technologies to address the 60 percent of preventable negative outcomes, can gain a distinct competitive advantage within the markets they serve. This dedication to safety will not only impact the birth itself, but could deliver significant dividends in terms of future healthcare decisions for the family. It's an investment worth making. 
Article published on DOTmed, June 25, 2019.
About the author: Matthew Sappern is CEO of PeriGen, an innovator in perinatal early warning systems. 
1 Pollfish Survey, conducted by PeriGen, 200 respondents, Female aged 18 – 44